Location: 157 King Street, St. Augustine, FL (a few blocks from the city's Historic District.)

Hospitality: Tours and wine tasting, a video presentation and gift shop are available at San Sebastian Winery. Individuals and groups are welcomed 7 days a week, Monday - Saturday from 10 a.m. until 6 p.m. and on Sunday from 11:00 a.m. until 6 p.m.

Winery Facilities: With over 18,000 square feet under roof, we have 40,000 gallons of wine storage capacity and our automated bottling line allows us to bottle1250 cases of wine per day.

Wine and Jazz Bar is open weekends, located on the third floor rooftop patio, serving light appetizers, San Sebastian wine and imported beers.

Brands: San Sebastian Winery.

Product: Premium sparkling, table and dessert wines from Florida hybrid bunch and Muscadine grapes.

Acreage: Only the winery, gift shop, production facility, banquet facility and Wine & Jazz bar are located at this site. The Winery owns over 550 acres of land located in Central Florida and in the Panhandle, where the majority of their grapes are grown.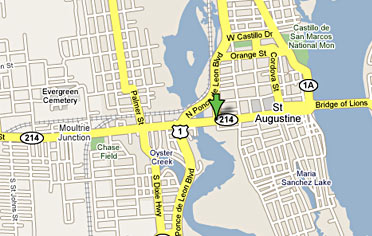 Click on the map to switch to view complete online directions and a full view of our location.